Are you ready to thaw out from the frigid temps and douse those winter blues with some sun, fun, and good vibes? I know I am, and I have the perfect melodic remedy for us. Finally, it's that time of year again good people. The City of Miami Gardens will host the 13th annual Jazz in the Gardens (JITG) stellar music festival from March 17-18, 2018. The S.O.S. Band will kick it off Friday at the Opening Night Party.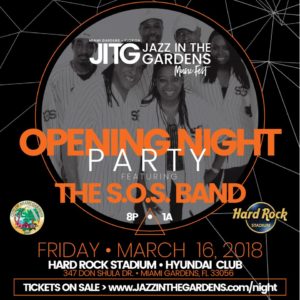 For music connoisseurs and those bitten by the travel bug, national and international music festivals satisfy our Souls on several levels. What I love about this family friendly, top notch music festival is you have time to enjoy fun in the sun at the beach, then beginning at 4 PM, sing and dance the night away beneath a blanket of stars. The arts, cuisine, and marketplace heighten the experience. Lynn M. Scott, a veteran of the music industry and dear friend reflected on last year's JITG,
"It was good to have quality, family time. My son knew the songs so he was singing and dancing along too."
The signature event for this vibrant community, fans will again experience the ultimate festival event featuring the world's top artists from the R&B, Soul, Jazz, Hip-Hop, and Funk genres. Hosted by nationally syndicated radio personality, Rickey Smiley, JITG will present this world class line up to an anticipated 70,000 attendees at the Hard Rock Stadium in Miami Gardens, FL.
At a time when women's voices are being heard more loudly than they have in decades, Jazz in the Gardens Music Fest is giving female artists an equal platform on the stage. This year, women make up half of the lineup. Shine on Sheros! Through extensive polling, the Jazz in the Gardens team has learned that 55 to 60 percent of the fan base is female, so it has become a priority to consider what those attendees want to hear and see.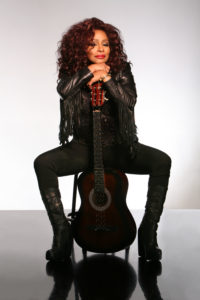 Gracing the stage is the incomparable Chaka Khan and the soulful voices of Grammy award winning songstresses Anita Baker (it took three years to get her so don't miss out) and Fantasia. Iconic soul legend Smokey Robinson makes his first ever Jazz in the Gardens appearance, along with gospel sensation Tasha Cobbs Leonard. Back by popular demand are The Jazz in the Gardens All Stars with this year's lineup including Pieces of a Dream, Walter Beasley and Avery Sunshine. Also on the bill is R&B sensation Joe, and Trombone Shorty & Orleans Avenue . Reminisce Old School style with the "I Love the 90s" tribute featuring Salt-N-Pepa, Kid 'N Play, Biz Markie and Trick Daddy.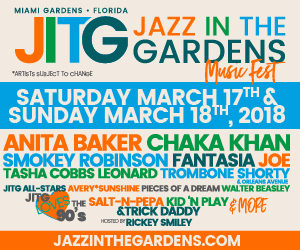 AEG Events producer Scott Gartner, who played a significant part in booking the acts for the festival's 13th-annual run, says Jazz in the Gardens organizers have always been cognizant of putting together a diverse lineup. "We try to bring an even mix. Some years, we're more successful than others. This year, I think we really came through."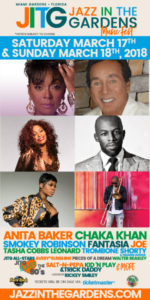 "I think what makes Jazz in the Gardens a fairly cool event is that it's still a homegrown festival," Scott Gartner says. "It's all about the city of Miami Gardens. Over the years, we've actually increased the number of local businesses that are involved in the event, both behind the stage and in our vendor area. We've also given a lot of kudos to the local music scene over the years — encouraging regional bands to perform and doing tributes to everyone from Betty Wright to Sam & Dave, who all came out of the South Florida music scene. It's all about embracing the roots of this community. People seem to really respond to that too!"
Rounding out JITG, guests will enjoy an array of delicious American and Caribbean cuisine, and indulge in a unique shopping experience with a marketplace of artwork, handbags, clothing and memorabilia. Additional events include: Film, Music, Art, and Culture Conference, Women's Impact Luncheon, and Poetry in the Gardens National Poetry Contest. Tickets are available at www.ticketmaster.com and www.jazzinthegardens.com. Hard Rock Stadium is located at 347 Don Shula Drive, Miami Gardens, FL 33056.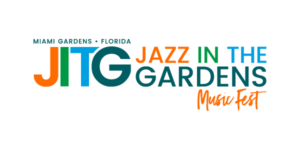 Plant, nurture, cultivate and sow, Sacred Seeds everywhere you go…